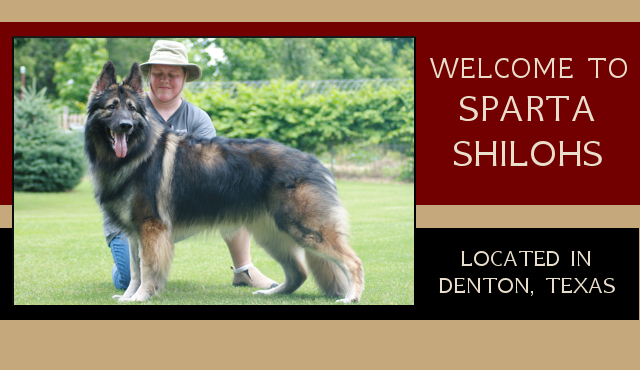 Welcome to Sparta Shilohs!
First of all, please pardon our dust as we redesign our site. We're looking forward to adding new pages to answer all your questions about the breed (and give you plenty of photos of gorgeous dogs to look at)!
Zak and I are Licensed Breeders of Shiloh Shepherds located in Denton, Texas, just a little bit north of Dallas. We are proud to support and to be members of the International Shiloh Shepherd Alliance, ISSA.
We got our first Shiloh Shepherd, Leo, from breed founder Tina Barber back in 2007. After Tina passed away, our passion for the breed remained, and we are now part of an initiative to preserve the health and unique qualities of this rare breed.
We attend rare breed dog shows and are members of our local obedience club. Anne serves as the Secretary of the ISSA national breed club, and is a Breed Warden in its registry, helping to track and maintain the genetic diversity and health of these dogs.
We love to introduce new people to Shilohs, and we spend a lot of time answering questions about the breed. Feel free to contact us via our email, sparta.shilohs@gmail.com!
Thanks so much for visiting and we hope you enjoy the site,
--Anne and Zak Becker